Written by JamaicaElections.com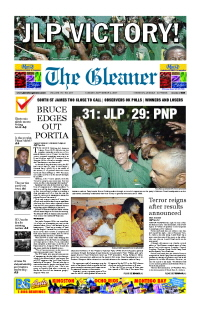 GOLDING'S march to Jamaica House
If anything, the victory by the Jamaica Labour Party (JLP) in yesterday's general election only serves to reaffirm what some pundits have long been saying: that Bruce Golding is Jamaica's luckiest politician alive today.
Blunder steals Portia's thunder
Decades from now, historians will have trouble fathoming why Portia Simpson Miller - with her approval ratings at a stratospheric level - did not call an election shortly after taking over from P.J. Patterson as leader.
Electoral Office of Jamaica (EOJ) under fire for missing names
The Electoral Office of Jamaica (EOJ) has come under fire for a failure to ensure, as promised, that the names of electors would not be left off the voters' list during yesterday's election proceedings in Central Manchester.
Enthusiasm out west
The energy which had been building throughout the election campaign culminated in much enthusiasm in western Jamaica yesterday as thousands of voters turned out to exercise their franchise in Jamaica's 15th general election since universal adult suffrage in 1944.
Golden agers take the time
Two senior citizens, John Kelley, 87, and his wife, Tilida, 92, of Newlands, Yallahs, St. Thomas, participated yesterday in the country's 15th general election.
Violence rocks SE 'St Bess'
Voting got off to a smooth start amid tight Jamaica Defence Force (JDF) security at the B.B. Coke High School in Junction, South East St. Elizabeth, with persons arriving at the polling stations from before 6:00 a.m. Polling officially started at 9:00 a.m.
T-shirts 'glam up' election fashion
Jamaican women are fashionable, but women from inner-city communities are known to take fashion to a whole new level.
Supporters 'party' in friendly rivalry
Despite reports of political intimidation and shootings in some constituencies in the Corporate Area, there were still many scenes of jubilation and friendly rivalry among supporters of the nation's two major political parties yesterday.
Observers Ok polls
With the exception of shooting incidents in the South East St. Andrew and Central Manchester constituencies, and the attempted theft of a ballot box in St. Ann, two observer groups considered yesterday's general election relatively free and fair.