Wednesday, August 22nd, 2007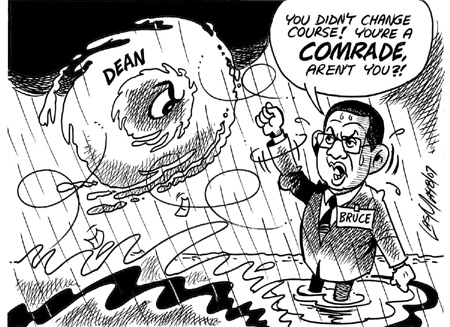 Hurricanes are full of wind; but so it is often said, are politicians. Prime Minister and People's National Party (PNP) President Portia Simpson Miller said that the week between Emancipation Day and Independence Day would be free of campaigning.
Yet the sanctity of Independence Day was 'rudely' interrupted by broadcast back-to-back campaign advertisements from the two main political parties. But then, it has also been suggested, advertisements aren't 'real campaigning' - which is about being out on the road and on the campaign platform.
But then if it is a 'campaign advertisement' isn't that campaigning - to claim otherwise is surely ridiculous? Then there is the Jamaica Labour Party (JLP) advertisement featuring Bruce Golding and booked on radio stations and played over and over, and then over again, to announce that 'now it's Hurricane Dean … so we won't be campaigning'.
Meanwhile the PNP suspended its campaigning during the Hurricane, citing the same reasons as Mr. Golding.
He in choosing his words must surely have been aware that hoping for Dean to 'change course' might unavoidably be associated with the JLP's in/famous advertisement of similar name - that provoked much indignation from the PNP - and therefore seen as blatant political point scoring; or rather saving.
Following a national disaster it stands to reason that citizens will rally round their leader during a time of shared need - George W. Bush's massive approval rating and political carte blanche in the wake of the 9/11 tragedy is one example.
The JLP, having so far shown - let's be honest - a more sophisticated approach to electoral advertising than its, 'a vote for the PNP, is a vote for Portia' opponents, will doubtless be acutely aware of this. That is likely why they have spent heavily on keeping the message of Mr. Golding's 'hurricane ad' in rotation.
With the momentum in the polls they now face the prospect of being stalled by a postponement of the August 27 polls in the wake of Hurricane Dean. If the governing PNP manage to do a competent job of returning the country to normality then the JLP will have little option but to 'unite' in the national interest, as Mr. Golding's message promises.
If 'Brand Portia' mobilises and presses, hugs and kisses the collective flesh of the electorate, Mr. Golding will surely be left envious. Meanwhile if the JLP is perceived as sniping at the recovery effort that could be damaging in reinforcing the image of negativity that often dogs the JLP - they have already raised objections.
So, will Dean make it inevitable that Mrs. Simpson Miller gains her first mandate?