Monday, September 3rd, 2007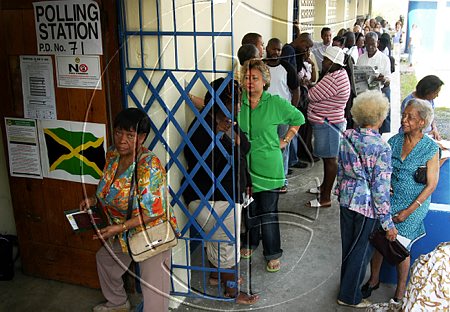 Photo by Andrew Smith, Photography Editor: Voters wait patiently in long lines at the Jamaica College polling station in the East St. Andrew constituency today.
After weeks of intense campaigning, voters are anxious to cast their ballots. As can be expected, the lines are long and have voters in St Andrew's West Central, West and Central uneasy.
Some voters are complaining that the process is taking too long. One man claimed he stood at the front of the line for close to an hour, blaming the inefficiency of the election workers.
He then went on to claim that is was an attempt to sabotage the Jamaica Labour Party (JLP) votes.
Of concern to some voters in Olympic Way in the West Central St. Andrew constituency is a sound system that was set up to play theme songs for the JLP campaign. The announcer could be heard urging voters to vote JLP.
The Representation of the People's Act prohibits such action on Election Day.