Saturday, July 14th, 2007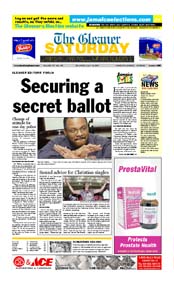 Securing a secret ballot
The Electoral Office of Jamaica (EOJ) will enforce new legislation against open voting to help convince voters their ballots can be kept secret, says Director of Elections Danville Walker, speaking yesterday at a Gleaner Editors' Forum.
Mandatory sentence not recommended by Electoral Commission
The Electoral Commission denies recommending imposing mandatory sentencing for persons who vote openly during elections.
Paulwell under pressure to resign
Again. Jamaica Labour Party (JLP) spokesman for telecommunications Clive Mullings is calling for the resignation of opposite number Minister Phillip Paulwell whom he accused of having an incestuous relationship in the granting of a telecoms licence to Solutrea Jamaica Ltd, who then failed to pay for their license.