Monday, September 3rd, 2007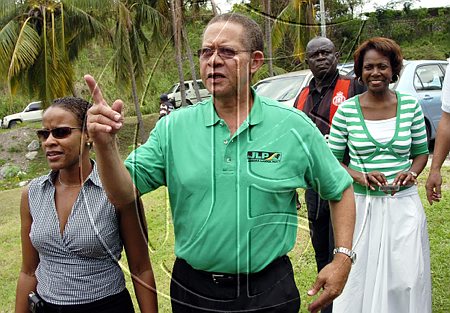 Photo by Rudolph Brown, Chief Photographer: Jamaica Labour Party (JLP) Leader Bruce Golding and his family heading towards the polling station in Millsborough, St. Andrew today.
Leader of the Jamaica Labour Party (JLP), Bruce Golding this morning voted for Delroy Chuck Mr. Golding, his candidate for the North East St. Andrew constituency.
Mr. Golding arrived five minutes after his schedule 11 a.m. time at the polling station located at 30 Millsborough Avenue in the St. Andrew hills where the incumbent Mr. Chuck, is running against the People's National Party's (PNP) Hugh Thompson and the Imperial Ethiopian World Federation Incorporated Political Party's (IEWFIPP) Raoul Alder.
Mr. Golding was accompanied by his wife Lorna; and their son Steven and daughters Shereen and Anmeritta, who was the only family member not to vote at the polling station.
After casting his ballot, Mr. Golding called for voters to accept the results of the election, regardless of the outcome, and for victors to be gracious in their celebrations.
Over in West Central St. Andrew, where the PNP's Patrick Roberts is trying to dethrone the JLP's Andrew Holness, sections of Olympic Way had been blocked with debris. However, several JLP supporters could be seen out in their colours.
There were more blocked roads in the West Kingston constituency, where Mr. Golding is again being challenged by the PNP's Joseph Witter. Sections of Denham Town and Matthews Lane in the vicinity of Kingston Public Hospital (KPH) were also blocked.