Friday, August 17th, 2007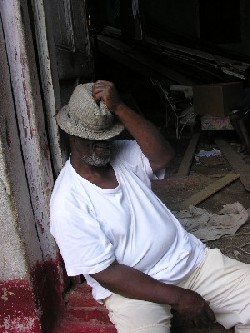 In response to yesterday's Bill Johnson/Gleaner poll, that put the Jamaica Labour Party (JLP) two-percentage points behind the People's National Party (PNP) on 40 per cent, JamaicaElections.com took to the streets for a quick straw poll.
We asked people whether the polls were that significant? Or did they even care? Half of those we spoke said they'd rather the parties stopped campaigning altogether.
Photo by Jermaine Evans: when asked about the polls this resident of George's Lane in Central Kingston signaled his disinterest by covering his face with his hat.
Passing by a racehorse betting shop at the corner of East Street and East Queens Street, downtown Kingston, we sought to get the opinion of some of the people there.
"How a island-wide thing and nobody no come ask me no question? If an island-wide ting den no everybody fi inna it, mi no believe inna no poll, nor 'politricks'," said Doggy a messenger and 'not-voting' 45-year-old Rastafarian from Spanish Town.
For the record: Bill Johnson polls are conducted within 84 communities across all 14 parishes with a total of 1008 persons being interviewed. There is an error margin of plus or minus three per cent.
Others doubted the validity of polling as an accurate science in Jamaican elections: "A whole heap a yute no come up fi vote yet, so dem poll deh cant right, dem affi wait till election day fi see di real polls," said Damey, a 27-year-old, PNP-aligned, factory worker from August Town.
When asked why the JLP have gained in the polls and why the PNP have stood still Greg, a 30-year-old 'hustla' from West Kingston, stood by his Member of Parliament, JLP Leader Bruce Golding.
"The JLP a my party, but mi no talk bias, mi love the party, and see true Bruce a mek nuff promise weh him can't fulfill, some 'band wagonist' a jump on pon the JLP bus, but Bruce fi lef' him betray di party already."
"The whole a dem a trickster," added Doggy.
Another Bruce, this time a 60-year-old retired driver, from West Kingston, votes for the PNP: "The PNP is a good party, but the reason why them a stand still right yah now a because dem a start too much tings and nah finish it, mi love di party, mi a vote fi dem from ever since, but we need some more progress."