Written by Ross Sheil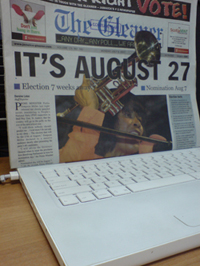 Welcome to the Jamaica Gleaner's daily election blog, where it's your turn to make your voice heard. Speak your mind and tell us what you think of the election race and our coverage of Jamaica Elections 2007.
You can submit media content in any format: text, photographs, audio and video. Anything else just let us know.
We hope that you find the information posted here useful and that you make a habit of visiting us daily.
We also hope that you will use the comments feature at the bottom of each post to share your ideas, comments and tips with us and the readers of this blog.
Happy reading.