Written by Jaevion Nelson
Founded ten years Citizens' Action for Free and Fair Election (CAFFE) is staffed solely by volunteers who will again act as observers come Election Day, August 27.
With 177 volunteers registered so far CAFFE says is still needs more to preside over polling stations across Jamaica's 60 constituencies. While this number may sound sufficient it is considerably short of the 1,682 people who volunteered in the 2002 general election - it has a target of 1,850 volunteers this election.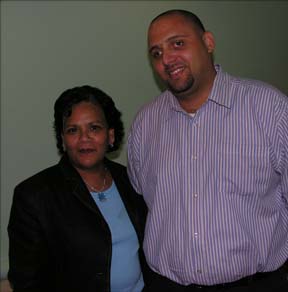 Photo by Jaevion Nelson: Citizens' Action for Free and Fair Election (CAFFE) volunteers Donna Singh and Andrew Gauntlet.
The work of CAFFE would be impossible without voluntary effort, said CAFFE Chairman Dr. Lloyd Barnett. Speaking at a press conference at the Hilton Hotel in Kingston yesterday he implored more Jamaicans to step forward.
"CAFFE is appealing to all to maintain a peaceful election campaign. We are asking all Jamaica to assist so that we do not plunge into an election campaign period that is characterised by violence, tension and crime," said Dr. Barnett.
Meetings have been scheduled around the island from today through to the July 19. Training is also being provided for those already registered - people like Donna Singh.
"The experience has been really rewarding and has contributed to my personal growth," said Ms. Singh, supervisor for the Eastern St. Andrew constituency. She has observed two general elections, one parish council election and one bi-election.
"There is a thing about putting on that bib," she said. "At the end of the day you feel a sense of achievement."
The public also appreciate the work, she said, recalling when her car broke down during the 2002 election and members of the public came to her assistance upon recognising her as a CAFFE volunteer.
"This is one of the best ways we can contribute to preserving our democracy," said Andrew Gauntlet who has been a CAFFE volunteer throughout its ten years of operation. It is the best way to ensure elections are free and fair, added Mr. Gauntlet.
To volunteer for Citizens' Action for Free and Fair Election (CAFFE) telephone: 922-0008-9

Read the related Gleaner article on CAFFE published today