Written by JamaicaElections.com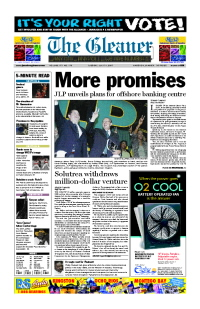 More promises - Jamaica Labour Party (JLP) unveils plans for offshore banking centre
Leader of the Jamaica Labour Party (JLP), Bruce Golding, yesterday unveiled a plethora of proposals in the party's manifesto to create a more business-friendly environment, targeting job-creating investments, chief among them being an offshore business centre to be located in downtown Kingston.
Solutrea withdraws million-dollar venture
The country's coffers received a massive $500 million blow yesterday after Solutrea Jamaica Ltd., the last company to be granted a mobile license, announced that it would be pulling out of Jamaica.

Mayor Lee unsure about Portmore as 15th parish of Jamaica
Much reservation surrounds the announcement made by Opposition Leader Bruce Golding that he will declare Portmore Jamaica's 15th parish if the Jamaica Labour Party (JLP) wins the August 27 general election the idea is not new, persons are questioning the move.
A rough road for Paulwell
Phillip Paulwell had great ambitions when he entered representational politics in the early 1990s. In fact, the new Member of Parliament for East Kingston and Port Royal said he wanted to be Prime Minister by the time he reached 45.
Housing shortage, training facilities: an MP's priority
With a brand new international sporting stadium, new police and fire stations, an almost new hospital along with four new hotel complexes, North Trelawny could be regarded as being on the fast track.