Written by Ross Sheil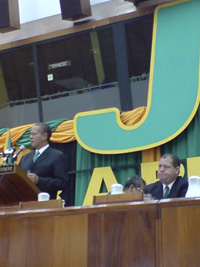 Downtown Kingston becoming a new offshore banking centre and the creation of a single 'mega-agency' for investment promotion were two pillars of the Jamaica Labour Party's (JLP) economic-centred election manifesto, announced by Opposition Leader Bruce Golding tonight.
Speaking at the manifesto launch held at the Jamaica Conference Centre in downtown Kingston, Mr. Golding reiterated his soundbite that "Jamaica was too rich a country to be so poor". He promised to create a more business-friendly environment and stimulate job-creating investment while also cutting bureaucracy and corruption.
Saying that education would be the most important factor in providing a platform for economic growth he said that school enrollment under the JLP would begin at five and not six years old; and the leaving age raised from 16 to 18 years old.
Accusing the governing People's National Party (PNP) of being inefficient he rebuked their criticism of his proposed spending on health and education claiming that if elected the JLP would better manage the budget, while reducing the role of government.
The PNP will launch its manifesto on August 9.
Read tomorrow's Daily Gleaner for a full report of the launch

Download the manifesto from the JLP website