Written by Jermaine Evans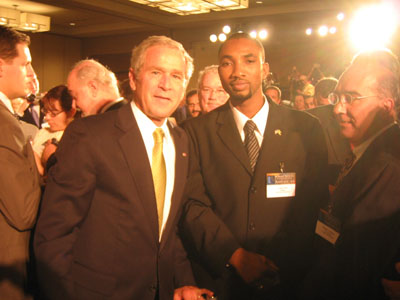 Contributed: President of the United States George W. Bush (left) with Omar Frith (centre), Manager of the Grants Pen, St. Andrew-based Stella Maris Foundation, at the Conference of the Americas, held in Washington D.C. last week. The Bush administration has funded community policing efforts in Grants Pen, including the construction of the 'Model Community Police Station', via the United States Agency for International Development (USAID).
Election candidates in the constituency of North East St. Andrew took a further step towards peace by signing a political code of conduct this morning.
The Political Code of Conduct is being signed by candidates in all 60 constituencies.
Gleaner Online was invited back to the Grants Pen area of the constituency to witness the signing, after reporting from the community last week. Unfortunately for Grants Pen, which has experienced relative peace in the past two years, there were two murders prior to the signing – one this morning and another on Saturday night.
However both murders were gang-related and not politically motivated, stressed Inspector Michael Simpson, commanding officer of the 'Model Community Police Station', located on Grants Pen Avenue, where the signing was held.
Omar Frith, Manager of the Stella Maris Foundation which runs a community centre on Grants Pen Avenue, said the signing was another step towards community transformation.
"The signing was a symbolic gesture concerning the fact that Grants Pen has been in the past consumed by violence. All the organisations have been working in the past to make Grants Pen a safer place, so it was time for the political representatives and the stakeholders to join in on this effort," said Mr. Frith.
Local Member of Parliament Delroy Chuck of the Jamaica Labour Party (JLP) downplayed the threat of political violence in the community. "There have been gang wars and domestic disputes, but no political violence," said Mr. Chuck.
"Violence is not part of my upbringing, it has never been … we need to help these people. Lets not condemn them, let's rehabilitate them." said Hugh Thompson, caretaker for the People's National Party (PNP), of the young men in the community.
Major Audley Harris, Justice of the Peace and the Assistant Returning Officer for the constituency, encouraged the candidates to respect the Code and maintain the peace. Major Harris recalled that former JLP leader Alexander Bustamante once rebuked his supporters at a rally for booing the name of his cousin, PNP leader Norman Manley.
"No, no he is my cousin, and you will treat him with the same respect you showed me," Major Harris quoted Bustamante defending Manley. "And all of us in this room are more than cousins, we are brothers and sisters."