Written by Jermaine Evans
Many people think that with an election there has to be violence; as if it is compulsory for Jamaican politics.
But will this be the case during Election 2007? To find out Gleaner Online visited the politically divided Grants Pen community, which sits within the North East St. Andrew constituency.
One side 'Bottom Gully' supports the Jamaica Labour Party (JLP) Member of Parliament Delroy Chuck, while 'Top Gully' is loyal to the People's National Party (PNP) and its caretaker Hugh Thompson.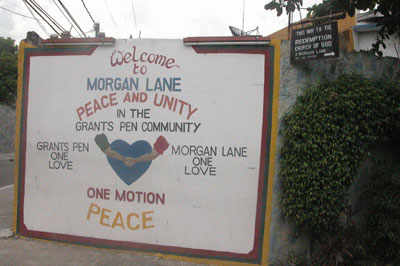 Photo by Jermaine Evans: A mural depicting PNP and JLP supporters shaking hands painted at the entrance to Morgan Lane in the community of Grants Pen, North St. Andrew.
The community has enjoyed peace in recent years thanks to efforts by residents, churches and community policing funded by the private sector and the United States Agency for International Development (USAID). The political parties have also worked together to erase political graffiti.
Grants Pen remains stigmatised by violence although the area went over a year without a reported murder during 2005/6, following the murder of seven-year-old Shaneal Raffington, which outraged the community and spurred peacemaking. Nonetheless police have seized few guns and residents have reported rising political tensions.
However: "No tension, jus' life and mobility … a dat we a campaign fa right now," was the immediate reply of one resident who identified himself as a JLP supporter. He was sitting among a group of men relaxing on the borderline, 'Pon di gully side', on Grants Pen Avenue.
"Di whole place under a global order" added his friend.
Another man who identified himself as Carl said peace was being held between Bottom Gully and the "man dem from up di road" – the PNP.
But he added: "This community is a community weh tings can happen at anytime, you can't predict nutten … so far wi no see nutten, but anytime, anytime tings can happen."
Entering Top Gully and the 'rival' PNP Morgan Lane the first thing a visitor will notice is not evidence of politics but artistic talent in the community – non-political murals which enliven the Lane. Elderly resident Rose Grandison was sat in her chair in the shade enjoying the quiet of the afternoon.
"I don't believe they are going to have a war time … they are against it immensely," said Mrs. Grandison of the young men on both sides. However in Morgan Lane they were less willing to be interviewed.
A short walk further down the Avenue is the Grants Pen 'Model Community Police Station'; unique in Jamaica it also houses a health centre, Internet café, community meeting facility and other amenities. The station has been held as a symbol of community transformation perhaps more than any other development in the community.
"The police have implemented various patrols within the area, foot, bicycle and mobile patrols. Them no gi criminals no time fi do nutten, so as soon as somebody think fi do something the police ago deh deh, so dem no get no time," said Daniel Markland, Public Relations Officer for the police youth club.
The church, organised under the banner of the Greater Grants Pen Ministers' Fraternal, will be continuing among other efforts monthly meetings with police and political representatives to maintain peace.
"I am very optimistic that peace will be maintained throughout the Election period and onward," said Pastor Ian Muirhead, who heads the group.