Written by JamaicaElections.com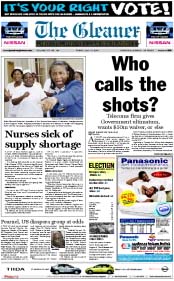 Pearnel, US diaspora group at odds
Jamaica Labour Party (JLP) Member of Parliament for North Central Clarendon Pearnel Charles has become embroiled in a dispute with United States Diaspora group Jamaica Forward.
This after Mr. Charles questioned the right of People's National Party (PNP) candidate Ralph Thomas, a returned resident from the United States, to make comments on the situation in that constituency, since he has not been on the ground for as long as him.
Open ballot legislation welcomed - Walker
Director of Elections Danville Walker believes new legislation will eliminate bogus voting after banning the display of ballots by voters.
'We want to be a tourist parish too!'
The People's Agenda: The Gleaner's series on what the voters are thinking in each constituency. Today is the turn of Central St. Mary.
'Fixed election date not possible'
Constitutional lawyer Dr. Lloyd Barnett on the proposal by Opposition Leader Bruce Golding to institute fixed election dates, if the JLP forms the next government.
WHAT ONE SAYS … WHAT THE OTHER HEARS
New feature allows undecided voters to air their views on what politicians and other public figures are saying on issues raised during the election campaign.
Today: Mr. Golding's offer of free education for primary/secondary school students and reimbursement of fees to parents who have already paid.
PG-18 event
After witnessing the small children dressed in PNP colours for the party rally in Half-Way Tree, St. Andrew on Sunday, one reader recommends children be shielded from political activity until they reach voting age.