Written by JamaicaElections.com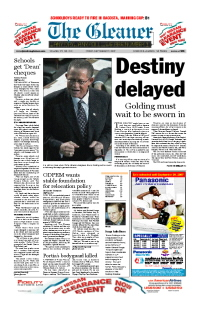 The country might have to wait until late next week before Jamaica Labour Party (JLP) leader Bruce Golding is sworn in as the country's next Prime Minister after leading his party to victory in the September 3 general election.
With election-related violence ongoing, winning People's National Party (PNP) candidate for South East St. Andrew, Maxine-Henry Wilson is calling on the JLP leadership to reign in their supporters, whom she blames for political violence in her constituency.
Meanwhile police are seeking Newton 'George Phang' Horne, brother of Norman Horne, the People's National Party (PNP) caretaker for South East St. Elizabeth, in connection with multiple counts of shooting with intent and illegal possession of firearm and ammunition.