Written by Ross Sheil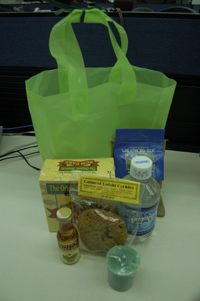 We've mentioned on this blog, several times before, the various ways in which the two main parties have been attempting to curry favour from voters.
A colleague today brought back what seems to be a 'sweet' attempt by the Jamaica Labour Party (JLP) to get journalists on their side by handing out goody bags (see photo) from their Media Centre at the Hilton Hotel in New Kingston.
Amongst the items - a brownie is missing, eaten, from the photograph - is a green candle. Does the JLP want journalists to keep this alight for them on Election Day?
Also … 'a friend' has handed me a discreet example of tribalism. It's a People's National Party (PNP) t-shirt, plain orange with 'PNP WINNER' written on the inside tag.
Perhaps this is because the Electoral Commission of Jamaica has banned party 'paraphernalia' from polling stations but still allows colours?