Written by JamaicaElections.com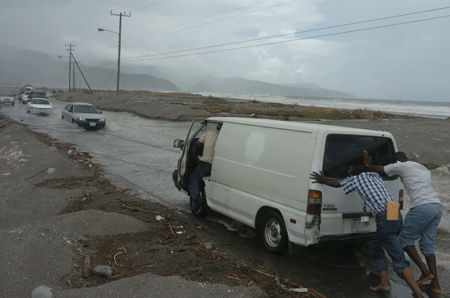 Photo by Andrew Smith, Gleaner Photography Editor: these men were pushing a van that had broken down while travelling on the waterlogged Palisadoes Road this morning. Sea swells associated with Hurricane Felix had earlier washed sea water onto the roadway.
The Office of Disaster Preparedness and Emergency Management (ODPEM) is advising that sea swells associated with Hurricane Felix has rendered the Palisadoes Road leading to the Norman Manley International Airport almost impassable at this time.
ODPEM said that the National Works Agency (NWA) were monitoring the situation.
Motorists are advised to proceed with extreme caution when traveling along this road.
The Meteorological Service is keeping Jamaica under a Tropical Storm Watch as a result of Hurricane Felix that is presently south of Jamaica and moving towards the west.
Despite Hurricane Felix not being a direct threat to Jamaica at this time, the ODPEM is imploring the public to remain aware until the watch is lifted.