Written by Ross Sheil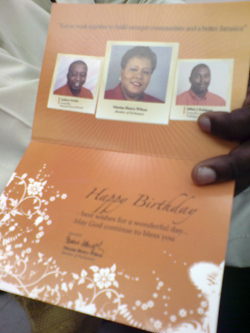 While the Jamaica Labour Party (JLP) has been leading the way in spending heavily on media advertising the People's National Party (PNP) has been trying some direct methods to reach voters.
We've already seen the introduction of 'Peter Bunting water' in his Central Manchester constituency. Now a reader from South East St. Andrew comes to us with news that incumbent Member of Parliament Maxine Henry-Wilson has been issuing birthday cards to constituents on their special day.
We want to hear from you, not opinions - as evidenced by our comments section, some readers are full of them - but photographic evidence of other interesting campaign methods.
E-mail: ross.sheil@gleanerjm.com