Written by Jaevion Nelson
Election day on August 27 is right around the corner; or at least it was until Hurricane Dean caused a postponement of the election.
The heat of of political rhetoric had been rising prior to the bad weather on Sunday and the Political Ombudsman has already received complaints about candidates from their rivals.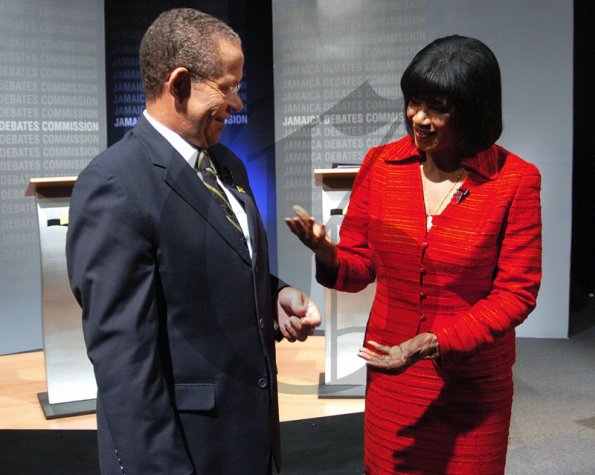 Photo by Peta-Gaye Clachar/Staff Photographer: People's National Party (PNP) President Portia Simpson Miller and Jamaica Labour Party (JLP) Leader Bruce Golding greet each other before the start of the Jamaica Debates Commission sponsored national political debate, held at the Creative Production and Training Facility (CPTC) in St. Andrew on Saturday, August 11.
Recently we saw Jamaica Labour Party (JLP) candidate for South East St. Ann Peter Fakhourie label his People's National Party (PNP) rival Lisa Hanna a "fool" and a "duppy".
Not that we would want to give the impression Mr. Fakhourie has been alone in lowering the tone of debate; not forgetting the numerous attack advertisements.
But with all that said, JamaicaElections.com decided to give candidates the opportunity to say something nice, or at least borderline civil, about each other. We asked a dozen candidates:
"What are two of the best traits in your opponent?"
And this was what they had to say …
Central Manchester
Peter Bunting (PNP)
"She is going into parliamentary politics at a time when most people her age would (not), so it shows a certain spunkiness."
"She is good at managing the media."
Sally Porteous (JLP)
"I have never being asked such a strange question … I don't want to talk about my opponent. I want to talk about what I am going to do for Central Manchester. However, I have a great deal of respect for my opponent as well as John Junor the former Member of Parliament."
South East St. Elizabeth
Norman Horne (PNP)
"He is friendly but he lies a lot."
"He's congenial but sneaky. He will listen to you and say 'Yes' but in the end he means 'No'."
Franklin Witter (JLP)
Despited repeated efforts JamaicaElections.com was unable to get a response Mr. Witter. The last conversation with him, he was unable to speak as he was in a meeting.
West Portland
Abe Dabdoub (PNP)
"I have nothing to say about Mr. Vaz – good or bad. I think the press is trying to create problems and there, I have no answer."
Daryl Vaz (JLP)
"Unfortunately for me I can't tell you one because I haven't looked to identify any. Based on his track record and his performance it's very difficult to find one."
West Central St. Andrew
Patrick Roberts (PNP)
"He can articulate very well."
"He is very confident."
Andrew Holness (JLP)
"One thing with him is that he is very ambitious."
"He is a hard worker."
North East Manchester
Paul Lyn (PNP)
"He has good oratory skills."
"He is very persuasive – good at affecting emotions and motivating people to believe in him."
Audley Shaw (JLP)
"I am very disappointed in my opponent. He is dishonourable and because of that he is not worthy to be an opponent."
South East St. Andrew
Maxine Henry-Wilson (PNP)
"She has a political history because she has been in it before."
"She is very aggressive in terms of her determination."
Joan Gordon-Webley (JLP)
Mrs. Gordon-Webley said she was unable to participate in the vox pop, saying that she didn't know enough about Mrs. Henry-Wilson.