Written by Gleaner Online Reporters
Nominations passed peacefully today* with the exception of one reported act of political violence. Police had to fire warning shots to disperse People's National Party (PNP) and Jamaica Labour Party (JLP) supporters who were stoning each other in Junction, St. Elizabeth.
No injuries were reported in that incident.
A total of 147 candidates were scheduled for nomination to contest Jamaica's 60 constituencies on Election Day, August 27.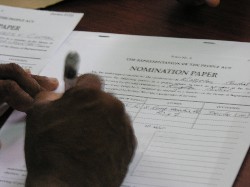 Photos by Kerri-Ann Bercher: (left) a witness for Jamaica Labour Party (JLP) candidate for Central Kingston Dr. Charlton Collie signs his nominations papers at the nomination centre at Alpha Primary School, South Camp Road; while (below right) a flag-waving supporter of the Imperial Ethiopian World Federation Incorporated Political Party (IEWFIPP) attended the centre in support of Party leader Junior Juan Anderson who is contesting the same seat.
In West Kingston, seat of Jamaica Labour Party (JLP) leader Bruce Golding, relations between his supporters and that of People's National Party (PNP) candidate Joseph 'Bunny' Witter were friendly with some dancing together, whilst singing the names of their party leaders.
"There is a wind of change blowing and the Jamaica Labour Party will be winning the next election!" a confident Mr. Golding told supporters outside the nomination centre at Denham Town High School, having arrived accompanied by his family and a marching band.
Over in her constituency of South West St. Andrew, Prime Minister and PNP President Portia Simpson Miller stressed the need for a peaceful campaign.
"I pledge total support to you and your team and hope and pray for a peaceful election in South West St. Andrew," Mrs. Simpson Miller told election officials.
With Mr. Golding confident of his party's chances Mrs. Simpson Miller said that she had never paid noticed to JLP candidates in her seat – she polled over 94 per cent of votes against current candidate Garnett Reid in the 2002 election.
There was even some glamour on the day with supermodel Nadine Willis turning out to support PNP candidate Patrick Roberts, who is running against incumbent Member of Parliament Andrew Holness in West Central St. Andrew.
"I am a socialist and socialists never change no course!" said Ms. Willis in reference to the famous political catchphrase.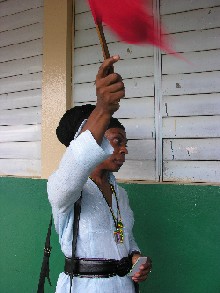 The National Democratic Movement (NDM), with ten nominations, and other parties were also involved. Two supporters accompanied, Junior Juan Anderson, head of the Imperial Ethiopian World Federation Incorporated Political Party (IEWFIPP) to his nomination for the seat of Central Kingston, held at the nomination centre at Alpha Primary School on South Camp Road.
Despite having just nine followers of his party Mr. Anderson remains determined.
"Well, Rasta, from 1944 no political party has really done anything for the Rastafarian people and the grass-root people. So right now, I am being the vanguard for the grass-root people and the watchdog for the Rastafarian people. We have to seek political representation. Each time a debate is affected by certain issues, there has to be a demonstration. That means there is no one to talk for them so we have to be that voice. So it's up to the people to decide."
Reporting by Kerry-Ann Bercher, Edmond Campbell, Jermaine Evans, Dayne Morrison and Jaevion Nelson.
*Amendment: alleged acts of political violence left a 67-year-old woman shot dead, and two policeman injured by gunfire on Nomination Day.