Written by JamaicaElections.com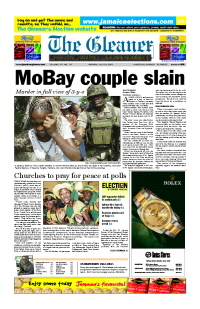 Churches to pray for peace at polls
While some churches have not wholeheartedly heeded the Prime Minister's call for seven days of prayer and fasting from July 31 to August 6, the Hands Across Jamaica for Righteousness group and several church leaders have agreed to come together today to join hands in a massive prayer session in Rose Town.
Jamaica Labour Party (JLP) set to launch manifesto today
The launch of the manifesto, to be held this afternoon at the Jamaica Conference Centre in downtown Kingston, comes less than one week before Nomination Day, August 7, and exactly four weeks before the general election on August 27.
Protruding Labourite killed in motorcade
A Jamaica Labour Party (JLP) supporter was killed in a motor vehicle accident in St. Elizabeth yesterday afternoon.
Farmers plant seed of hope
North West Clarendon will be a tough battle-ground for incumbent People's National Party (PNP) candidate Richard Azan and challenger, the Jamaica Labour Party's (JLP) Michael Stern.
Common woes await
Whoever takes South East Clarendon will have his work cut out in tackling the litany of woes common to most constituencies islandwide - bad roads, unemployment and skills training.
St Andrew residents march for peace
Concerned residents from rivalling Maxfield Avenue, Whitfield Town, Greenwich Town and other communities along Spanish Town Road in St. Andrew walked together in a peace march as they combined their voices to denounce the violence in their communities on Thursday.