Written by JamaicaElections.com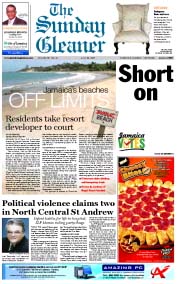 Short on trust - Simpson Miller - 61%, Golding - 47%
Prime Minister Portia Simpson Miller and Opposition Leader Bruce Golding are each being handicapped on the campaign trail by significant levels of distrust among electors - 33 per cent and 43 per cent, respectively, according to a Gleaner-commissioned Bill Johnson poll.
Development first on JLP agenda if elected
The Jamaica Labour Party (JLP) says it will streamline the development process in its first 100 days in office if elected on August 27.
Speaking at a recent Gleaner Editors' Forum, Shirley Williams, Shadow Minister for Industry, Commerce and Investment, said the JLP would focus on urban renewal, with a view to implementing existing development orders. According to her, two thirds of the parishes have such orders which stipulate certain developmental regulations and land-use policies. However, not many are followed, while some are outdated.
JLP promises to review Portmore toll - plans to introduce railway as alternative
Opposition Leader Bruce Golding says a Jamaica Labour Party (JLP) government will renegotiate the Portmore leg of Highway 2000, which has been a source of controversy between the current administration and residents of the St. Catherine municipality since its opening in July last year.
Political violence kills two in North Central St. Andrew
Infant battles for life in hospital; (Jamaica Labour Party) JLP blames ruling party thugs.
While the stand-off about peace talks between the leadership of the People's National Party (PNP) and rival Jamaica Labour Party (JLP) continues, two persons, alleged supporters of the JLP, were murdered on the weekend.
'I am going there to win' - Dennis Messias
Under the Representation of the People Act, candidates must pay $3,000 to be nominated in order to run as a candidate for an election. The money is only refunded if the candidate polls one eighth of total votes cast.
After the 2002 general election, Dennis Messias lost his nomination deposit - all of $3,000.
'No dynasty lives on forever' - Christopher Munroe
Karl Samuda has served for over two decades as Member of Parliament for North Central St. Andrew. He says it is mathematically impossible for anybody to beat him in the constituency.
However, don't tell that to Dr. Christopher Munroe. He believes that there is no dynasty that lives on forever, and that the 2002 election victory was Mr. Samuda's last.
POLITICAL AD WATCH - Will Golding's flip flop his chances?
The credibility of Jamaica Labour Party (JLP) leader, Bruce Golding, which has always been a subtext of People's National Party (PNP) campaign strategy on the platform, has emerged from the shadows into media mainstream with a newspaper advertisement casting doubt on the trust-worthiness of the Opposition Leader.