Thursday, August 30th, 2007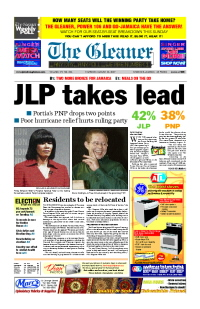 Jamaica Labour Party takes lead - Portia's People's National Party drops two points - Poor hurricane relief hurts ruling party
With the general election just four days away, the Bruce Golding-led Jamaica Labour Party (JLP) has opened up a four percentage point lead in popular support over the Portia Simpson Miller-led People's National Party (PNP), which appears to have suffered a political fallout in the aftermath of Hurricane Dean.

Electoral Commission of Jamaica (ECJ) reports 72 per cent turnout on Tuesday
Of the 33,288 persons enumerated to vote on Tuesday when membersof the security forces and election day workers cast their ballots, 24,030 exercised their franchise. Professor Errol Miller, chairman of the Electoral Commission of Jamaica (ECJ), noted that this represented a 72 per cent voter turnout. A few glitches on election day prevented some persons from casting their ballots.Meanwhile, despite damage to 246 polling stations by Hurricane Dean, officials at the Electoral Office of Jamaica (EOJ) and the ECJ said yesterday that voting in next Monday's general election will not be affected.
JAMAICA VOTES - Country can afford to abolish health fees
Prime Minister Portia Simpson Miller recently suggested that the Opposition Leader follow the advice of popular deejay Mr. Vegas and 'tek weh' himself. She was referring to what has been the Jamaica Labour Party's (JLP) habit of making big promises more concerned with impressing voters than budgeters. After education, health has become the second issue area which, in this election season, has had a great philosophical question attached to it: 'To fee, or not to fee?' The People's National Party (PNP) sings a mantra of 'Nothing is free. Everything must cost us something', while the Jamaica Labour party (JLP) continues to say elliptically, 'We can find the money'.
Norman Horne: I have the support and the numbers
Norman Horne, who is representing the PNP in South East St. Elizabeth, changed his political coat when he resigned as a member of the PNP prior to the 2002 general elections and switched allegiance to the JLP in a bid to enter Parliament on the party's ticket. He, however, lost the contest to the PNP's John Junor in Central Manchester, receiving 7,209 votes to Mr. Junor's 8,331.
Rosemarie Shaw: Trying to take back seat for PNP
Forty-eight-year-old Rosemarie Shaw is the PNP's candidate for West St. Thomas. Ms. Shaw was a JLP Councillor in the 1990s and served as Mayor of Morant Bay.
Karl Samuda: Will always win his seat
The JLP's Karl Samuda is the chief turncoat who switched from the JLP in 1990 after being expelled in the wake of the so-called 'Gang-of-Five' rebellion against Mr. Seaga's reportedly autocratic leadership style.
Abe Dabdoub: House-to-house walk signals a win
Abe Dabdoub is no stranger to the political landscape. He has been active in politics since the 1970s. He was president of the JLP youth arm, Young Jamaica, from 1973 to 1975. He entered representational politics when he was elected Councillor for the Vineyard Town Division of the Kingston and St. Andrew Corporation (KSAC), in the Local Government Elections of 1981. He was also a JLP Senator from 1980 to 1983.

Ian Hayles: I am 100% confident I will win
Thirty-five-year-old Ian Hayles is the PNP candidate for the Hanover Western seat. The one-time president of the JLP affiliate group, Generation 2000 (G2K), was also a JLP caretaker for North Trelawny. He, however, left the JLP in a huff when he also resigned from the party in tow with Horne.